Each passing day we are witnessing the unprecedented effects of coronavirus on the heart of our cities and towns, as the boundless pandemic is altering – and potentially displacing – their social and economic role.
In order to assist place managers who are responsible with the gargantuan task of supporting their cities and towns through this pandemic, the IPM has developed a Coronavirus Recovery Framework.
___
The Framework is designed to help place leaders take the most effective action now, in the immediate crisis, and to build the capacity for recovery and longer-term transformation.
The Framework sets out a series of systematic preparedness, response and recovery measures, across four stages: Crisis, Pre-Recovery, Recovery, and Transformation. This approach, drawing on health emergency and disaster management, is a fundamental shift for place leaders.
Reflecting the vital role of local authorities and place partnerships in delivering coronavirus aid to those who need it, the Framework focuses on coordination, reassurance and data collection in the first 'Crisis' stage. Organisations must then prepare for recovery by building the skills, networks, knowledge, and data, that will be the basis for strategies to attract people back to the high street.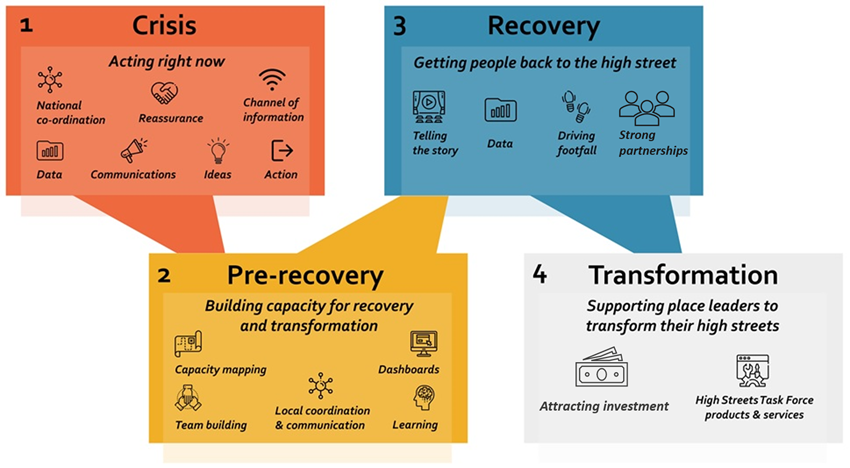 Above: The Institute of Place Management's Coronavirus Recovery Framework
You can read more about the Framework, its stages, and what each one means for placemakers, by visiting an expanded post on the IPM Blog.