High street footfall in the UK has been falling since the end of February.
Whilst footfall is a key metric in the management of town centres and other commercial areas, since COVID-19 the amount of people on and off the streets has become an indicator of national importance.
___
*THIS PAGE IS UPDATED DAILY*
As the professional body for place management, the Institute is heavily involved in understanding the impact of COVID-19 and supporting the government and our practitioners, including those in The BID Foundation.
We are fortunate that our long-term collaboration with partners Springboard means that we have access to hourly footfall figures across the UK and a daily high street footfall index, tracking UK high street footfall and changes in footfall across four town types. The graphs compare 2020/21 footfall against 2019.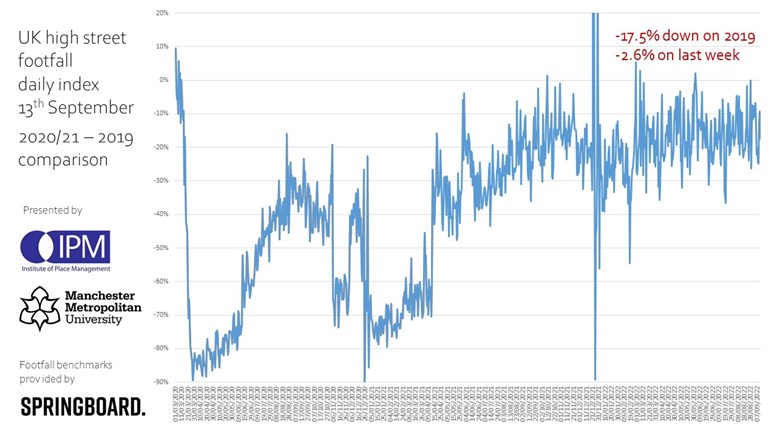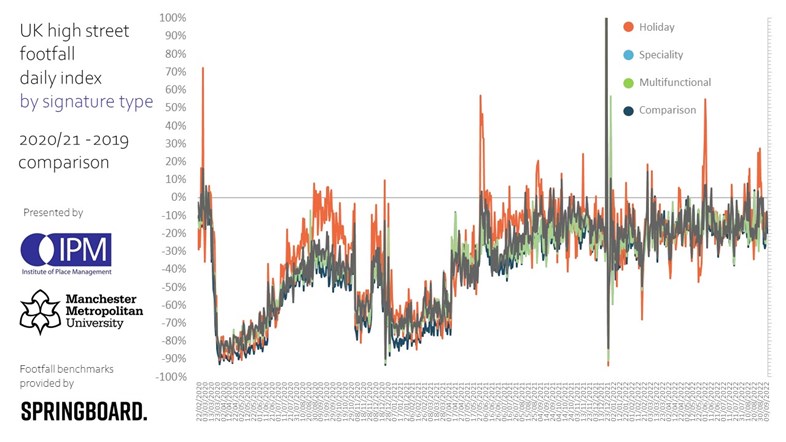 Downloads
Download the footfall data (supplied by Springboard).
Springboard provide footfall updates to the Institute of Place Management for research purposes. If you intend to produce your own graphs from this data you must cite Springboard [https://www.spring-board.info] as the source of the footfall data in any reports or presentations etc.
Town types
___
Holiday Towns
Are busy in the summer and quiet in the winter. They focus on offering a good experience to visitors during the summer peak, rather than on their local catchment. They are attractive to tourists but have a relatively weak comparison offer.
Speciality Towns
Get busier after Easter, with the largest peak in footfall occurring in the summer, followed by a smaller peak before Christmas. Anchor(s) are not retail-based, offering something unique and special (e.g. heritage and culture). They attract visitors but serve local population.
Multifunctional Towns
Have a relatively flat footfall throughout the year with no noticeable peaks. The retail offer, opening times, events, services and other uses are focussed on the local community. They have convenience anchors, work, public transport, shopping, markets etc. They organise themselves to be reliable, community hubs.
Comparison Towns
Have a noticeable peak in footfall in the lead-up to Christmas. They have a wide range of retail choice, leisure, food and beverage, strong retail anchor(s), and presence of international brands. People travel a considerable distance to visit and they serve a wide catchment area.
___
Town types based upon Mumford, C., Parker, C., Ntounis, N., & Dargan, E. (2020). Footfall signatures and volumes: Towards a classification of UK centres. Environment and Planning B: Urban Analytics and City Science. https://doi.org/10.1177/2399808320911412