(above: Cathy with Ojay McDonald, CEO of ATCM, and Marcus Jones MP)
On Sunday 2nd and Monday 3rd October, IPM Chair, Professor Cathy Parker attended the Conservative Party Conference in Birmingham.
A quiet conference
It is hard to get accurate delegate numbers for the 4-day event, but local hospitality businesses said that the city was quieter than expected and the conference didn't bring the boost they had hoped for. Hotel rooms in the city were still available up until the Friday before the conference.
The divisions in the party were evident as not all Conservative MPs showed up but more telling, perhaps, were the number of other organisations (especially businesses) that decided against making the trip.
Regeneration still on the agenda
Nevertheless, high streets, town centres, regeneration and local leadership still seem to be important to the new administration. Cathy attended two roundtables where she heard levelling up was still very much on the agenda, albeit with new policy levers designed to encourage more private sector investment.
Even before the £18bn real term cut to public services announced by the Chancellor last Monday morning there was talk about less public money being available - but more devolved power. Power without funding is not much use - and the private sector won't level up the country on its own.
Nevertheless, there was a good opportunity to talk to some individual MPs and discuss ways in which policy initiatives (such as Investment Zones) can be adopted - so that they strengthen, rather than weaken, town centres.
Meeting with IPM Partners
It was helpful to meet up with Ojay McDonald, CEO of ATCM, who has done a lot of useful work with the British Property Federation to develop a model that could work across the 'typical' town and city centre - which has fragmented ownership, rather than available to areas that have just one Master Developer.
The conference was an opportunity to catch up with the many of the organisation IPM works with such as ATCM, Civic Voice, the Association of Convenience Stores, and Power to Change.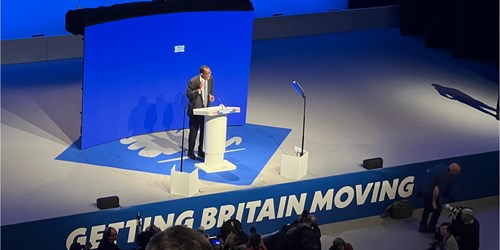 Cost of living pressures
It felt a lot more subdued than previous conferences, but given the current crisis the Conservative Party is engulfed in, that's hardly surprising.
Cathy Parker said, "this turmoil is a distraction from the very real cost of living problems facing businesses, communities and individuals at the moment."
"I felt I had to go to the conference, to try and get a feel of what the direction of travel will be for this new administration, but heard a lot of mixed messages - levelling up is still an aim; but public service budgets need to be cut. More jobs need delivering but there is little tangible reassurance for existing employers, especially those across high street sectors, who are wondering whether they will survive. Yes there are tax and NI cuts, but these are not what high street businesses have been asking for. They want more certainty on energy relief, VAT cuts to boost spending and business rate relief."
The government has said it will bring forward a medium-term economic plan, which all hope will bring stability to markets and some specific measures to support businesses past the already announced 6-month energy price guarantee. If we're to stay committed to levelling up and to thriving town and cities, a vital festive period awaits for everyone from policy makers to high street traders.