On 19th April at Manchester Metropolitan University Business School, The BID Foundation was joined by expert speakers and an audience drawn from around the UK and Europe.
The BID Summit – day one of IPM's Good Growth Conference – has been established for 2 years and brings together the most current debates shaping places and Business Improvement Districts, as well as expert voices sharing innovative practice.
We will have videos of every session, including of day 2, available to Members shortly.
In the meantime, the summary below captures The BID Summit and some of the visuals from the day. If you have any questions about anything here, or would like to join the next BID Leadership Network or Summit, please get in touch.
__
Innovation in placemaking and partnerships - Manchester Accommodation BID
The BID Summit opened with a presentation from Vaughan Allen, of City Co, on the new Accommodation BID (ABID) in Manchester. The ABID is unique, with levy collected from hotels and serviced accommodation in the city via a City Visitor Charge of £1 per room per night.
Despite interest and debate across the BID sector about this new charge – widely trailed in media as a 'tourist tax' – Vaughan spoke to conference delegates about the smooth progress with hoteliers and visitors since the charge's introduction on 1st April 2023. The ABID has followed its Board formation with the recent appointment of a BID Manager.
Vaughan also discussed the need for innovation in the sector, with the ABID delivering a strategic destination marketing role, seeking to attract blue chip events and conferences to the city, and core placemaking services such as cleaning of public realm. The ABID has built a local partnership for this, including levy payer representative, the Manchester Hoteliers Association, Manchester and Salford City Councils, and Marketing Manchester, which will deliver part of the ABID programme.
Delegates asked Vaughan about the merits of a visitor charge, versus the traditional rates-based model or other potential alternatives such as a voluntary contribution, and many shared their experience of paying the charge via hotel bookings for their conference stay (the consensus being that it was an interesting line on their bill but, at £1 per night, not a barrier to bookings). Vaughan provided detail on how levy is collected, with average occupation data from across the city used as an effective multiplier against each hotel's total stock of rooms.
The ABID is a good example of the challenge of innovation in placemaking and place governance, which has to work through the inherent tension of new partnerships and ideas. The ABID will work to develop good will through smooth delivery, evidence of impact, and proactive work to influence visitors' perceptions of the sector. Indeed, Vaughan spoke about welcoming challenges along the way, to help ensure that they have a robust model that's right for the city. We look forward to watching the ABID develop over the coming months.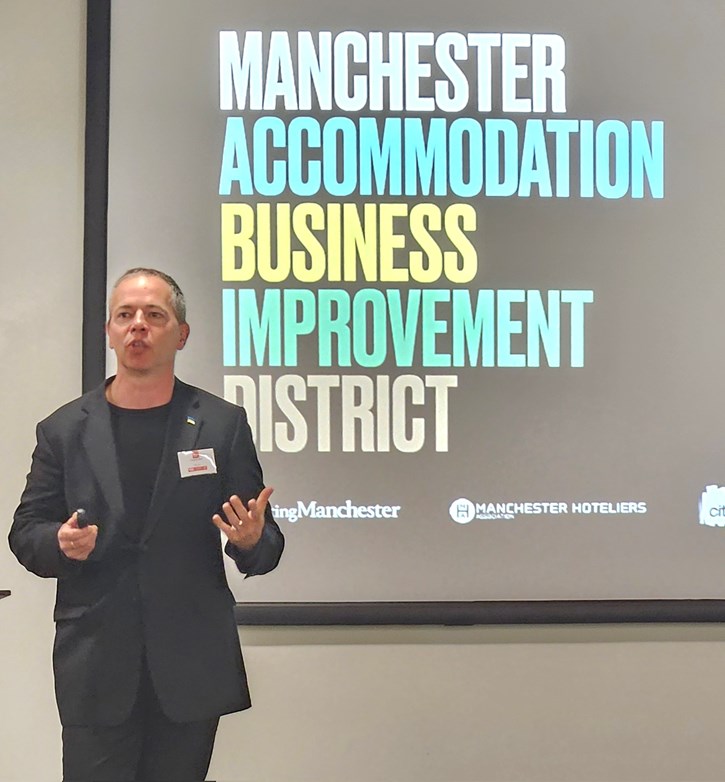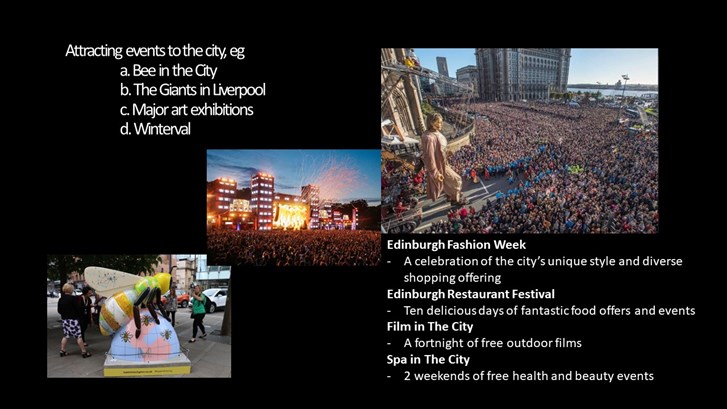 ___
Business rates and the resilience of place funding – Julie Grail
With Labour announcing a business rates cut as their number one priority in a five point plan to 'save Britain's high streets', it is a critical time to reflect on the resilience of the BID sector, which links its levy raising ability to the same tax. Thankfully, the sector has the flexibility to respond to this, as well as recent downward property valuations across the UK, and Julie Grail, Founder of The BIDs Business gave a 'myth-busting' overview for conference delegates as well as a fascinating insight into the history of raising non-domestic rates since 1975.
Julie discussed how BIDs must be future proofed against fluctuating rateable value (RV) of hereditaments, by having the ability to change their levy multiplier to retain more consistent and predictable levy income. Without the ability to make this change – which should be included within BID articles of association – planning for the range of placemaking programmes delivered by BIDs becomes problematic.
Giving a historical view of the fluctuation in RV, Julie highlighted 2010 as a period of significant increase across the UK, a counterpoint to the impact of the recent revaluation which decreased high street values significantly. A series of models showed how the 2023 revaluation impacts a typical BID, both with and without adjustments to their levy multiplier.
In one of the liveliest discussions of the first day, delegates discussed their own BID delivery and levy raising in the context of falling property prices and short-term government cuts to business rates obligations. The concept of 'additionality' – that BID programmes deliver impact over and above what would be traditionally expected of local authority place management – was viewed as key to BID's ability to continue to raise levy and maintain high levels of goodwill across the UK. An excellent contribution from InStreatham BID demonstrated both the strain which under-invested local services can put on BIDs as well as the trusted position that many BIDs occupy, as points of contact and support for their levy payers.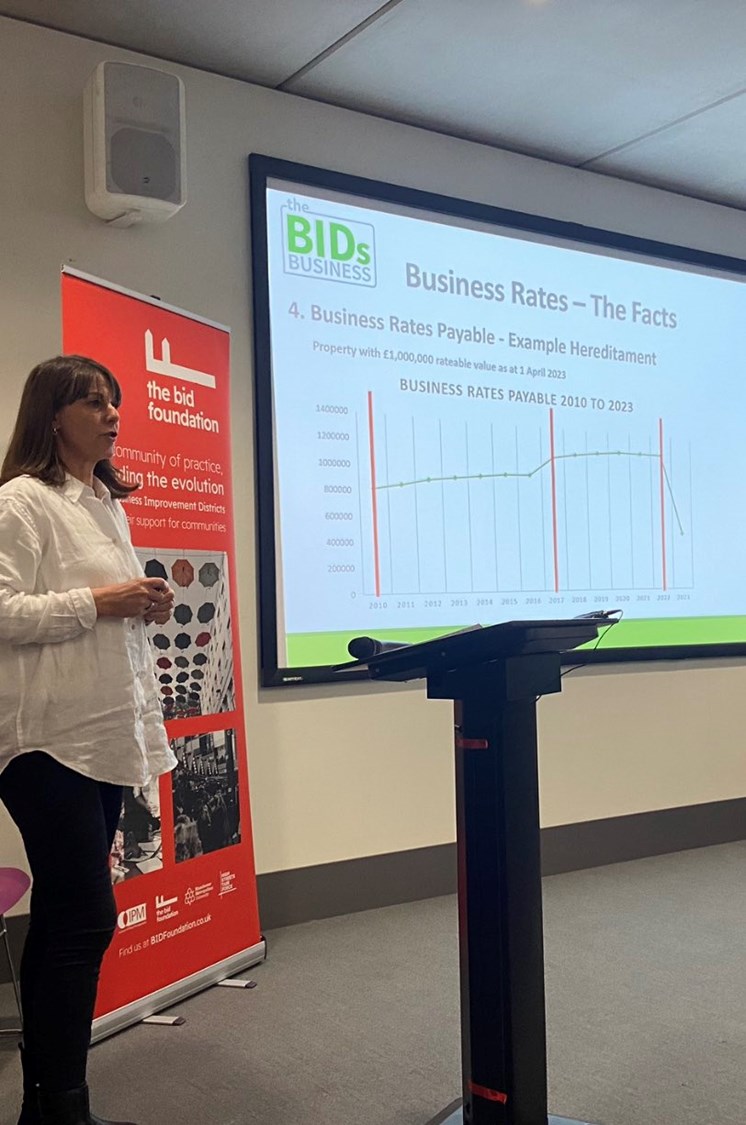 ___

Delivering social outcomes in Cardiff – Carolyn Brownell and Emily Cotterill
Next conference heard from the 5th largest BID in the UK – FOR Cardiff – about their suite of social value projects which were added to the BID programme in its 2nd term, following community consultation.
The City Ambition Fund was a response to feedback from levy payers that accessing sponsorship and funds for their projects was often viewed as difficult, or not transparent. The £50k Fund is open to anyone with a project that aligns to FOR Cardiff's aims and has to date supported a range of projects, such as the Cardiff Wine Passport, free street theatre, and helping people with disabilities to understand challenges of accessibility in the city. This work is underpinned by FOR Cardiff's commitment to the 'Equality City' idea, showing support for equality, diversity and inclusion. The BID does this through its vision and practical interventions, such as ensuring that 20% of the City Ambition Fund is allocated to projects with BAME audiences or founders. The Wellbeing of Future Generations Act was also mentioned, part of the legislative and cultural background for the BID's work on social value.
Carolyn Brownell discussed the success of the BID's Women's Safety Network which, in a challenging operational environment, has launched an app for women's safe places that brings together those who can offer safe spaces at night. Research shows that 40% of women feel unsafe in the city when alone after dark. Cardiff has built its NTE partnerships to address this need for further work and support and gained much coverage (ITV) and acclaim for its approach.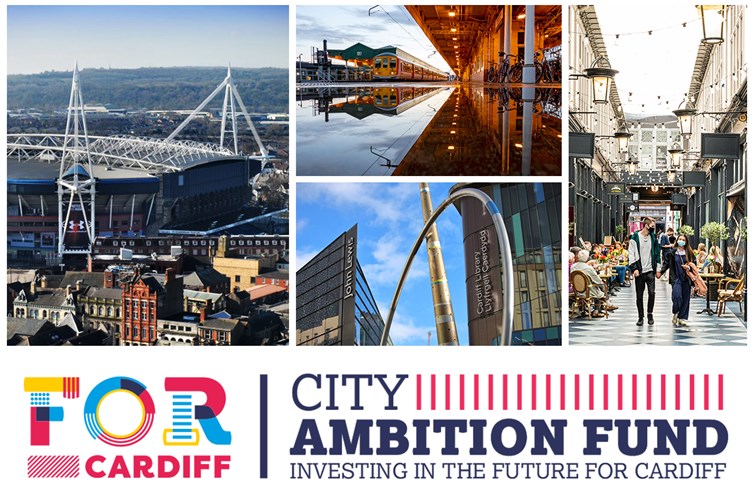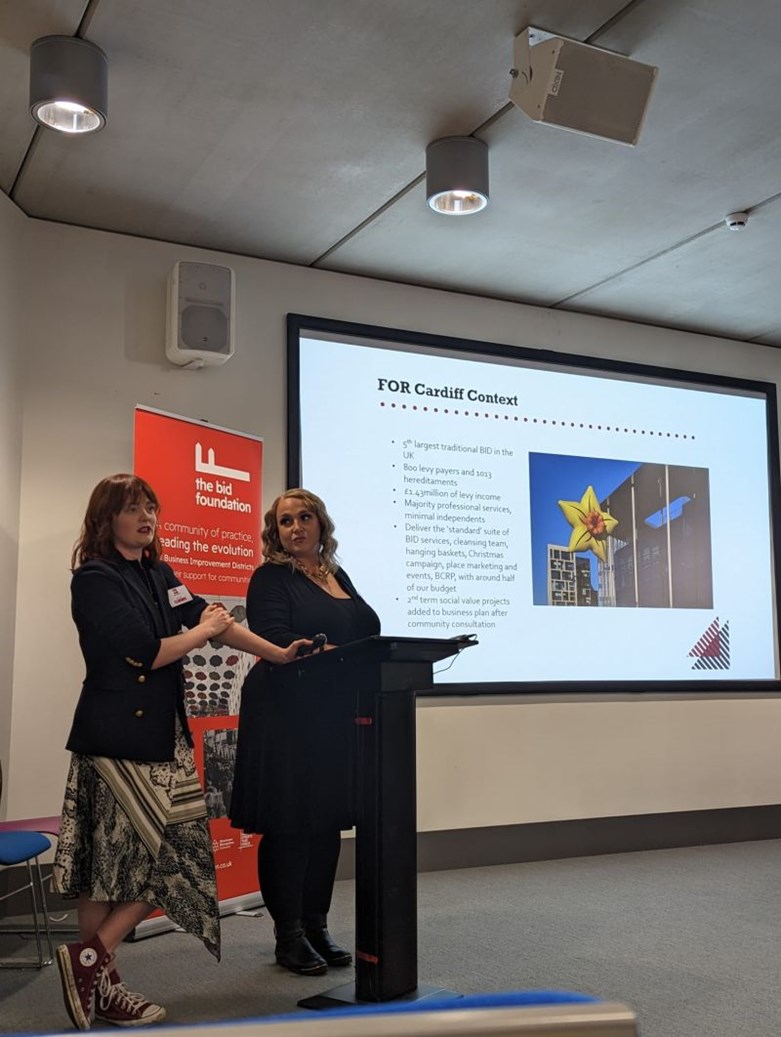 ___

A carbon neutral roadmap for London Bridge – Jack Skillen, Team London Bridge
Jack Skillen, Placeshaping Director at Team London Bridge, provided a detailed overview of the collective carbon neutral vision and strategy for the area. The BID has put sustainability front and centre of their work and their latest ballot, giving them the mandate to deliver a significant programme to 'make London Bridge one of the most sustainable, culturally innovative and compelling places for business and tourism in the world".
In order to establish their routemap, the BID commissioned a study in order to establish a baseline of performance for the area. It was instructive to learn that 65% of carbon emissions were from buildings in the BID area, compared to 1% total from vehicles, meaning that the large footprint of office space was a key target in terms of making carbon savings. A series of lively and engagement workshops with businesses brought that baseline to life and shared examples of best practice and ambition, to be built into the roadmap. 64 local businesses now have a defined net zero commitment.
Jack also took delegates through a range of communal and business-led projects that are actually delivering the net zero journey, from a district heating network to promotion of active travel, the provision of infrastructure to support it, and of technology to help businesses measure their carbon footprint.
In addition to the impact data collected by the BID and a focus on changing behaviours, Jack also stressed the importance of winning and retaining 'hearts and minds', and showed examples of the BID's event and cultural programme that links local design, entertainment and wellbeing, with environmental sustainability.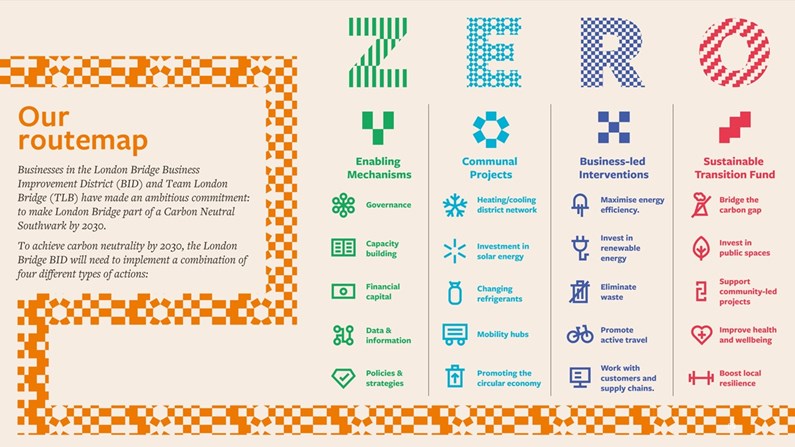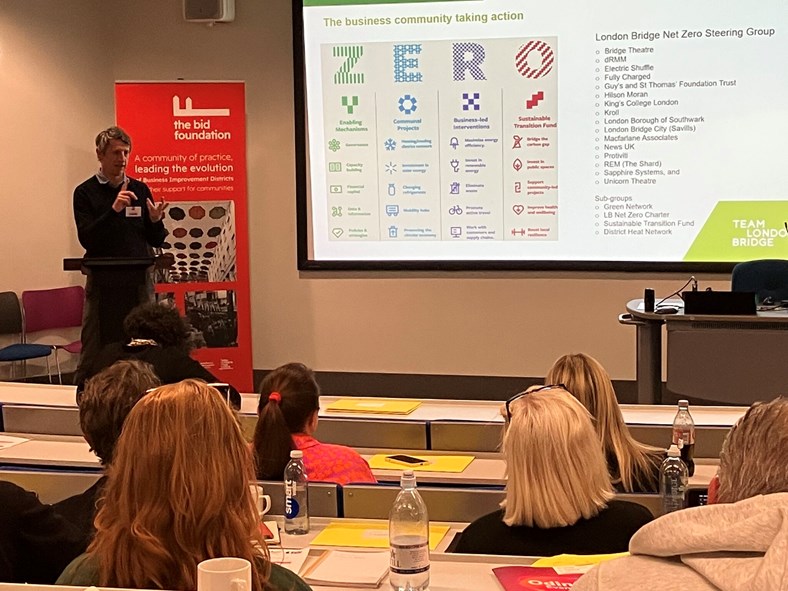 ___

Walking tour of Castlefield Viaduct – with Prof Cathy Parker and National Trust
"We all want beauty…we all need space. Unless we have it, we cannot reach that sense of quiet in which whispers of better things come to us gently." Octavia Hill – social reformer and a founder of the National Trust
Conference delegates couldn't have asked for a better day to tour the National Trust's pilot project on the Castlefield Viaduct. Under blue skies, the group toured the Grade-II listed viaduct, built by engineers that also worked on Blackpool Tower and now reclaimed for public use as a park in the sky. Bringing comparisons to a very modest version of the New York high line, the space has been brought to live with innovative planting, some sculpture, seating and information about the flora and heritage of Manchester.
Delegates found the space a good way to connect with nature, continue conference discussions, and to speak with National Trust staff about some of the opportunities in the city. We hope to follow the progress of the viaduct, and that it moves beyond pilot stage to become a permanent and developing green space for Manchester.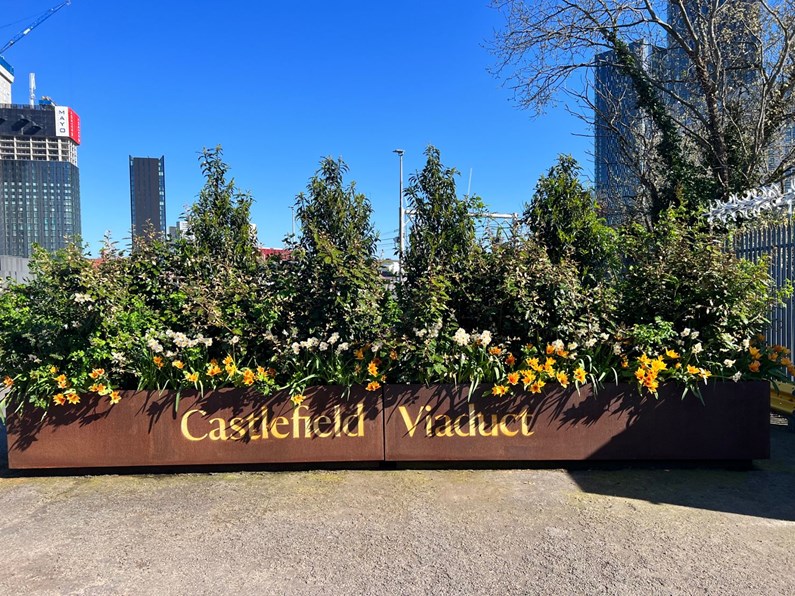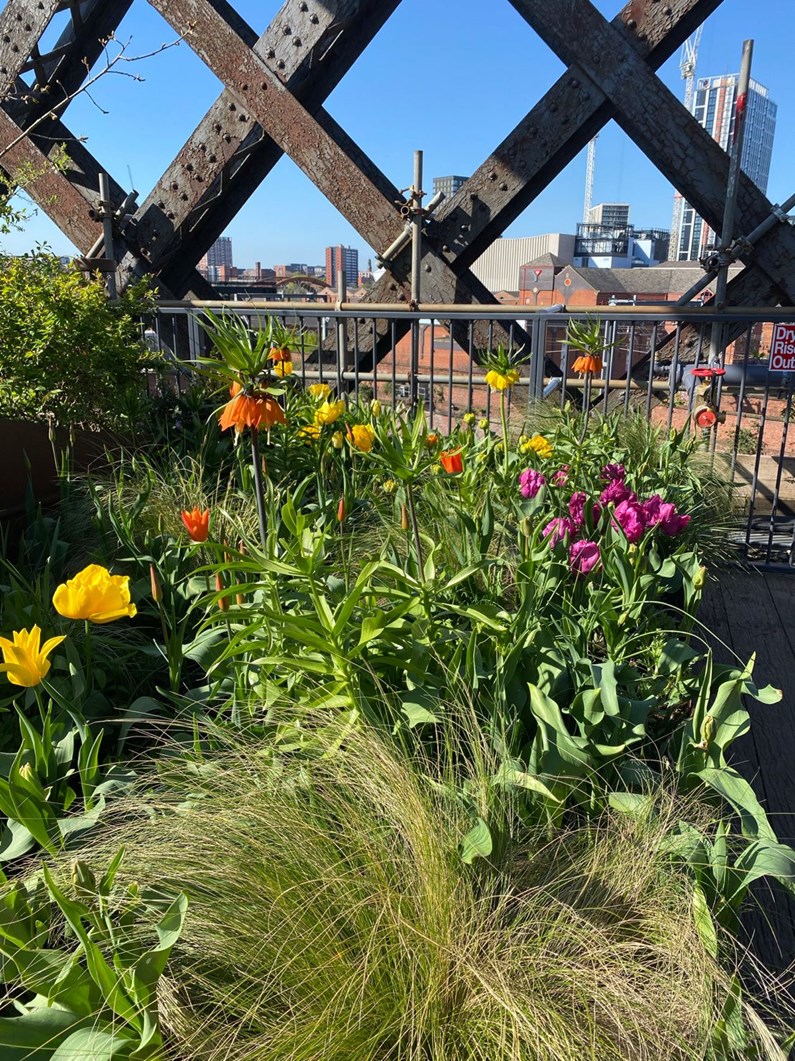 __