Researchers from the Institute of Place Management travelled to the vibrant and green city of Ljubljana, Slovenia, to present their latest research about place at the Regional Studies Association (RSA) Conference.
The theme of the RSA Conference this year was "Transforming Regions: Policies and Planning for People and Places" and it was held at the School of Economics and Business, University of Ljubljana.
Our research group included:
The team were involved in organising and chairing six paper sessions at the conference, as well as delivering research presentations. Drawing on their research into urban squats, Jenny Kanellopoulou and Nikos Ntounis, alongside their colleague Dr Aidan Cerar from the Slovenian Institute of Spatial Policies (iPoP), led a two-hour cultural walking tour of Ljubljana's squatted and 'alternative' cultural areas for around 25 delegates. The tour, which visited the formerly squatted bike factory of Autonomous Rog and the cultural hub of Metelkova, received positive feedback from its participants.
Jenny and Nikos also organised and chaired two sessions relating to cultural heritage, related to their ongoing research project – "Framework for the evaluation of social transformation through cultural heritage". The sessions showcased the research of project colleagues Dr Aggelos Panayiotopulos (Liverpool John Moores University), Dr Ioannis Papageorgiou, (CEO of the Rhodes Centre for History and Social Research), and PhD student Zoe Touvra (University of the Aegean).
---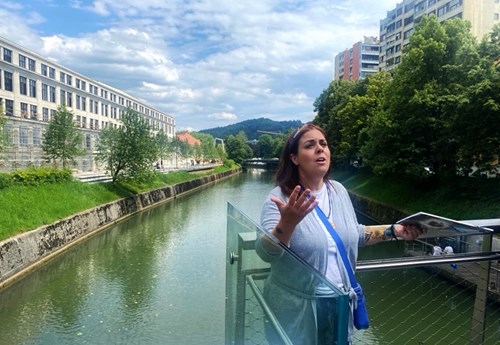 Dr Jenny Kanellopoulou teaching the walking tour participants about Autonomous Rog.
---
Steve Millington, Chloe Steadman, Gareth Roberts, and Nikos Ntounis organised and chaired four sessions relating to place management themed around:
Concepts and methodologies (chaired by Steve Millington)
Participatory approaches (chaired by Chloe Steadman)
Case studies (chaired by Gareth Roberts)
Culture (chaired by Nikos Ntounis)
During these sessions, which featured the work of scholars working in these areas from around the world, Steve Millington presented findings from IPM's Vital and Viable Manchester Project. Chloe Steadman discussed experiences of using engaged scholarship in this same project, whereas Jenny Kanellopoulou presented about governance in Greece through the lens of film. Also, Gareth Roberts, Afroditi Kazakou and Jamie Hamill presented their ongoing doctoral research being conducted at Manchester Met.
---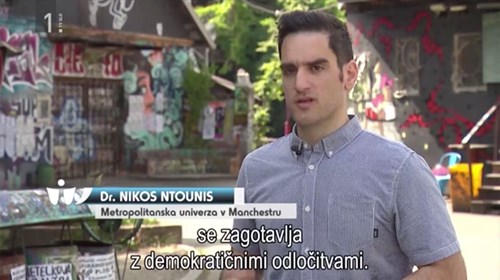 Dr Nikos Ntounis interviewed on Slovenia's RTV 1 programme Tednik.
---
The conference was important for enhancing the international recognition of Manchester Met and IPM's research excellence on place. Further conference discussions may lead to future collaborations between the RSA and IPM, and IPM and the Slovenian Institute of Spatial Policies. The group also had positive conversations with academic publishers regarding a proposed Handbook of Place Management to be co-edited by Steve Millington and Nikos Ntounis. Watch this space!
The conference also further demonstrated how IPM continues to lead the way in transferring research intelligence into ground-breaking activities and interventions. Our practical recommendations, tools, and passionate support for places and our members working within them, is all predicated on this research-led approach; the sort of research being presented at the RSA Conference. By drawing on this flow of research excellence, the Institute is ready to help more place leaders and place makers to create liveable and loveable places.